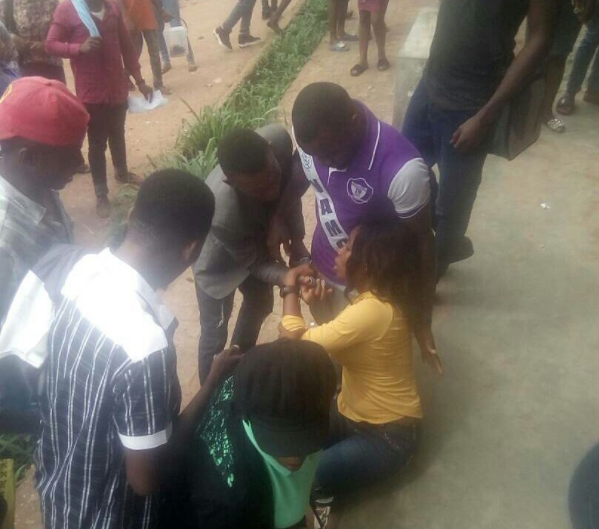 A 300 level Imo State University student of Nutrition and dietectics reportedly fainted after she was flogged by a lecturer who has been identified as Prof Egbe Richard from the faculty of social science.
It was gathered that Prof. Egbe allegedly used his belt to flog the student who came for her exams. Here are photos from the scene below;
See some reactions below;
Bande Elvis She deserves it,some girls act as if they are gods on earth.
Because they have got pussies to offer.
Your lecturer is equally your mentor,sparing the rod to spoil you isn't in his agenda..
So take some flogs and your brain will be straight.
Marycynthia Ezeugwu Hmmmm there is more to this.How can a lecturer flog his student like that..In University not even Secondary school.Their must be something he has been nursing evil in his mind for that girl that led to that..He should be questioned &the school authority should take this issue serious..

Worldlywap.net For any help, assistance, adverts etc, you can contact us via you can contact me through:
Email me:
[email protected]
Facebook:
Simplemind527
Twitter :
@WorldlyWap
BBM: (
569C5371
)
WhatsApp:
+2348102895517
2go:
babt4love
or simplemind29
Instagram:
@worldlywap